The 11th year of Artist Project opened in the past Thursday night at the Better Living Centre, Exhibition Place. This year, Artist Project features more than 250 artists from Canada and abroad, with over 5000 works of art, live performance and installations.

We had the pleasure to attend the Opening Night Party, the followings are some of the artworks we saw and artists we met.
 
"I create what did not exist except perhaps in another world or in an unexplored part of our universe".
Renee Bellavance, ReBel as she called herself, paints expressive painting viewable with a 3D glasses. Not only it has a novelty sense to it, it also has a story behind it. When asked how she paint in 3D, ReBel told us she paint it like how she sees. After an injury she had, her eyes see things similar to how we see things through 3D glasses. Looking at the painting of the universe through 3D glasses was like seeing a very real snapshot of how the stars were born. Very neat!
Blakey's ceramic works look as if it is a natural form of organism, organically construct with care by hand. It reminds us of corals and barnacles at first sight.
"Blakey's ceramic work occupies an interesting ground within the medium. She does not define her work by typical standards of sculpture or functionality. Rather, she finds meaning in the materiality and sensuality of her particular media."
"I am seeking to create visual representations that convey the juxtapositions found in our natural world; ideas of growth and decay, strength and fragility." Stated in her artist statement.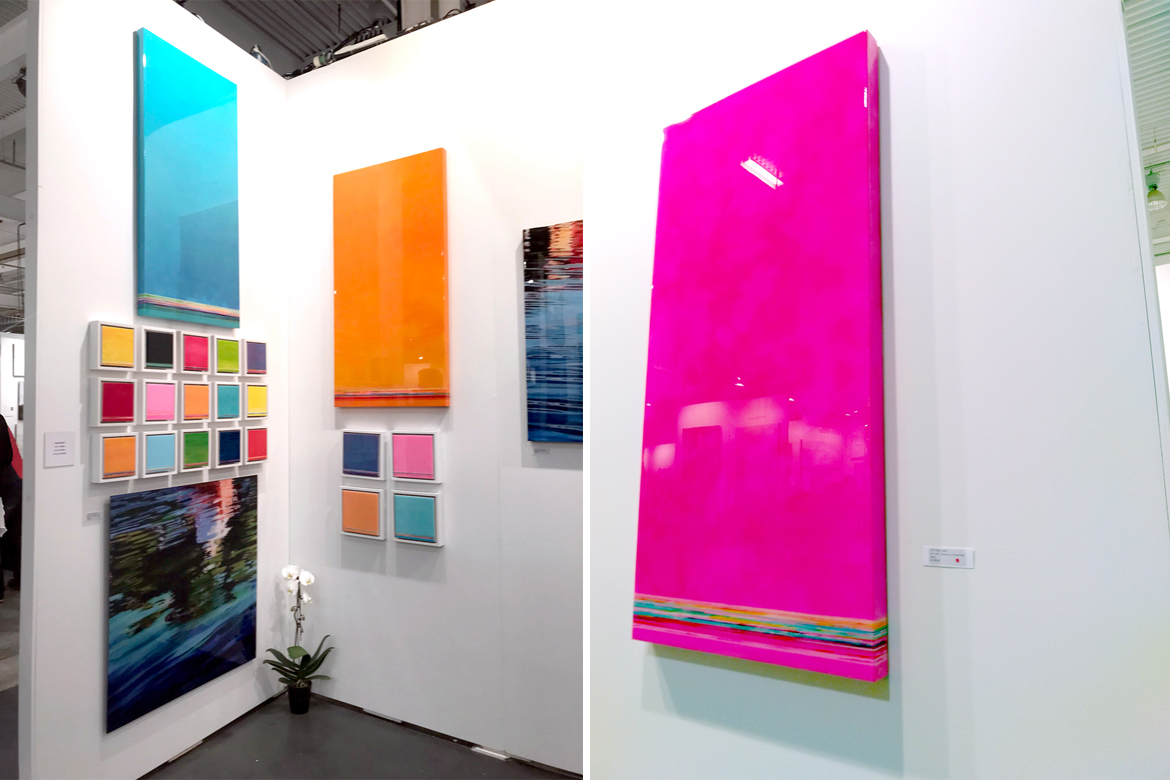 The bold and modern aesthetic approach of Jane Fleetwood Morrow caught the eyes of quite a few viewers in the show, in the few minutes we stood in line to wait for a drink sample, quite a few of the people took photos of the shocking pink painting in front of her booth. The appeal of the colourful modern painting is unmistakable, colours convey emotion and it is definitely shown in this case.
The painting series of water reflection she called 'Colourscapes' is also quite captivating, with it's photographic appeal, it heightens the viewers' sensibility to the world around us through something often overlooked.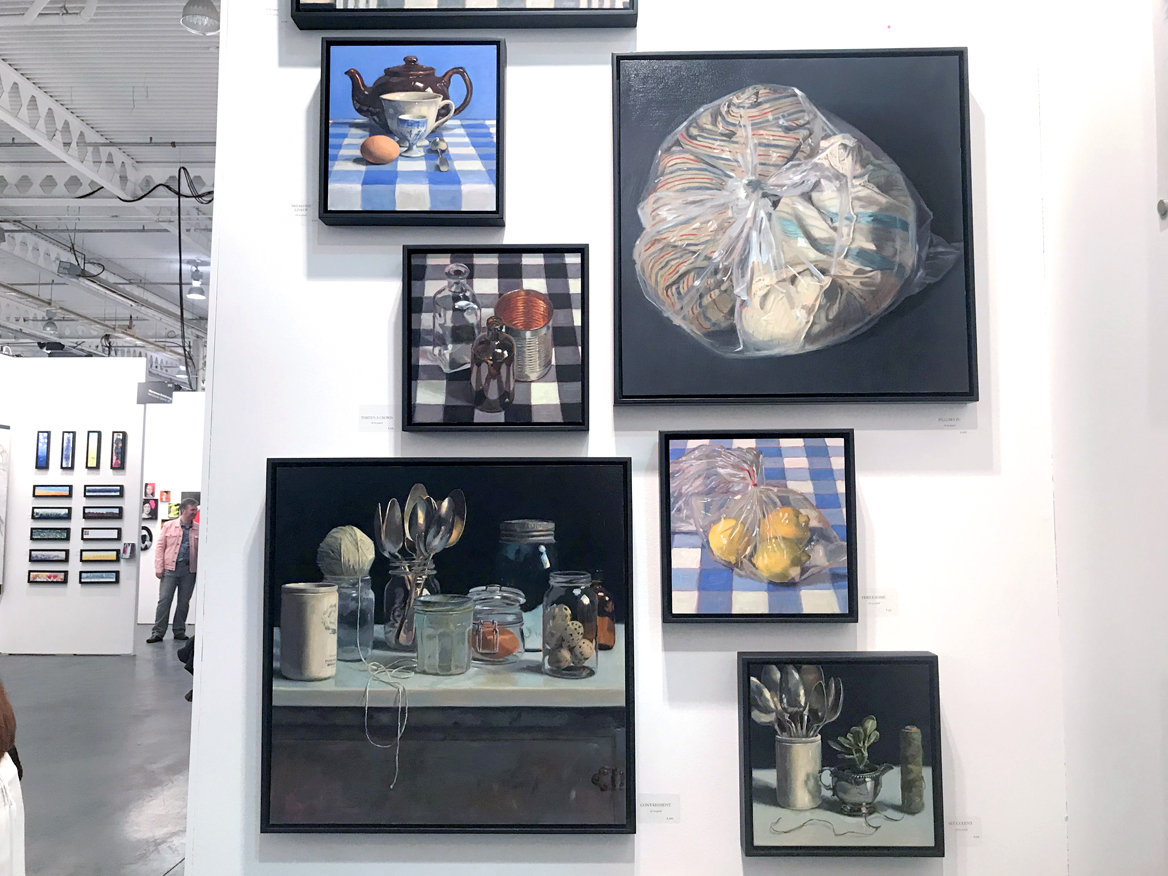 "Janette Hayhoe's oil paintings focus on the 'everydayness' of contemporary life. Images of familiar objects and spaces have the power to evoke memory and psychological responses that call our attention to what is often overlooked."
We were intrigued by the mix of classical oil painting with contemporary still life objects. Looking at Janette Hayhoe's paintings almost have a time travel effect because of how elegant the oil painting is and how much we often overlooked everyday things, say, a plastic bag with two lemons in it. It was as if that bag of lemons belong to the neoclassical period and is about to be pick up by one of the Greek goddesses to make a lemon tea. After browsing through her works with delights, we left her booth wondering to ourselves if those paintings would become a fine example of classical arts in people's eyes hundred of years later.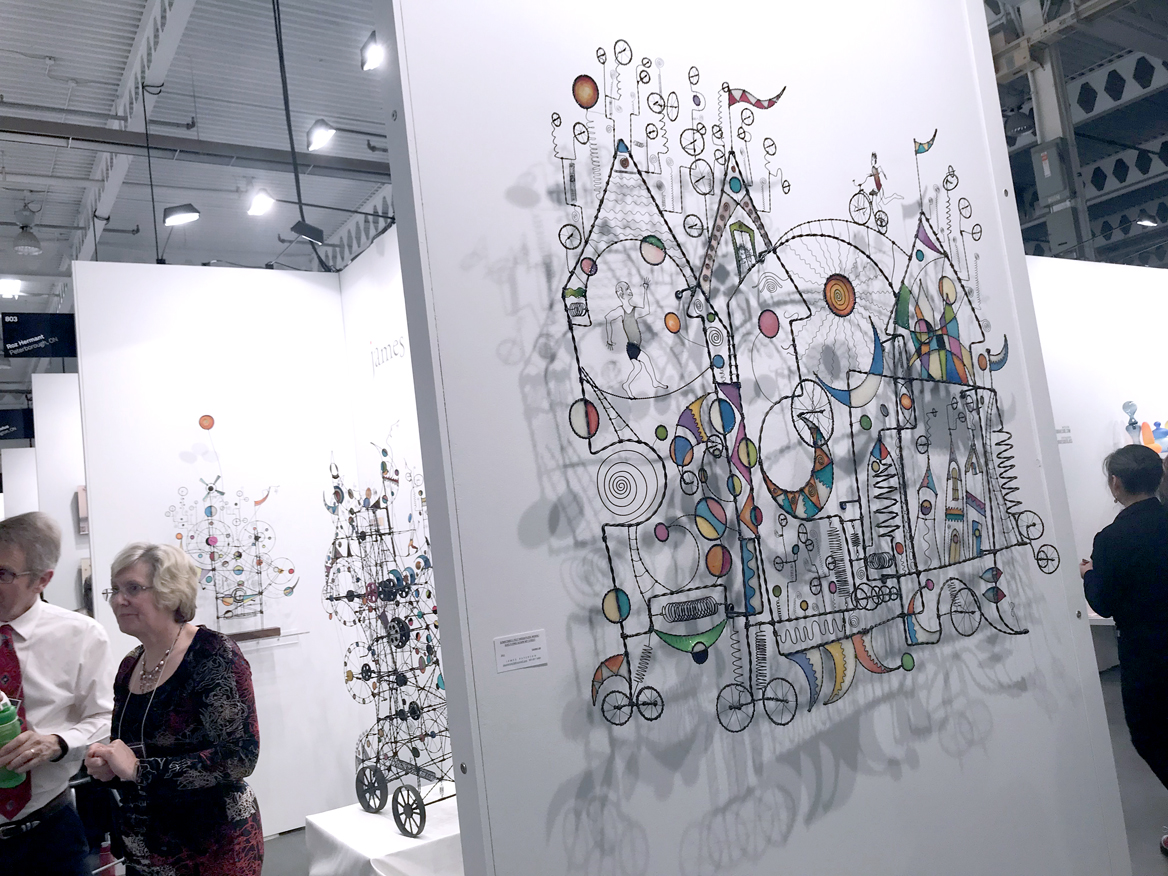 At first glance, aesthetically speaking, James Paterson's Prayer Machines remind me of American artist Alexander Calder's hanging mobile. Upon talking to James and saw how the Prayer Machines were in action, we see how they are not only a moving sculptures designed with great details.
They are markings of conversations with God in physical forms. Each art piece has a theme behind it, each of these tells hope, joy, desperation, grateful and many other themes representing a prayer of each.
As James said in his statement concerning Prayer Machines: "They are quiet and invite inner reflection; … open your eyes wider. Let your heart listen more closely. Allow your mind to wander with intuition as its guide to a place where there is a joy that confounds and a beauty that embraces."
Many of the subjects in Mary Ann Slater's realistic acrylic painting are objects that reminded us of our childhood. The seemingly simple objects that we often forgotten shines and takes centre stage in the paintings.
"Mary Ann's work begins with finding the object, in attics, yard sales and long forgotten basement shelves. She then paints with tiny brushes, layered paint and vivid colours to capture the unique character of that item. She focuses on the simplicity of that piece, letting it tell its own story. Mary Ann invites you to enjoy the stories that you find, and hopes that you remember to slow down and enjoy the simple things in life."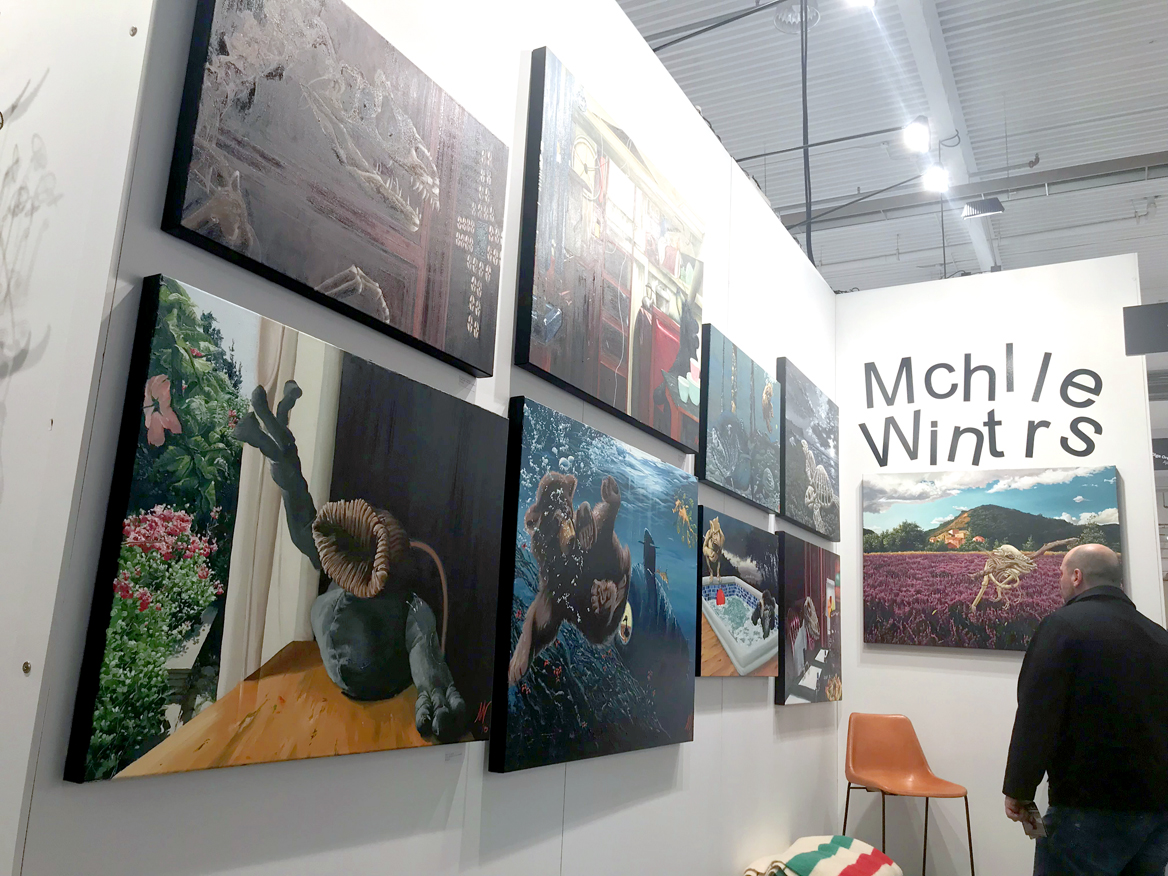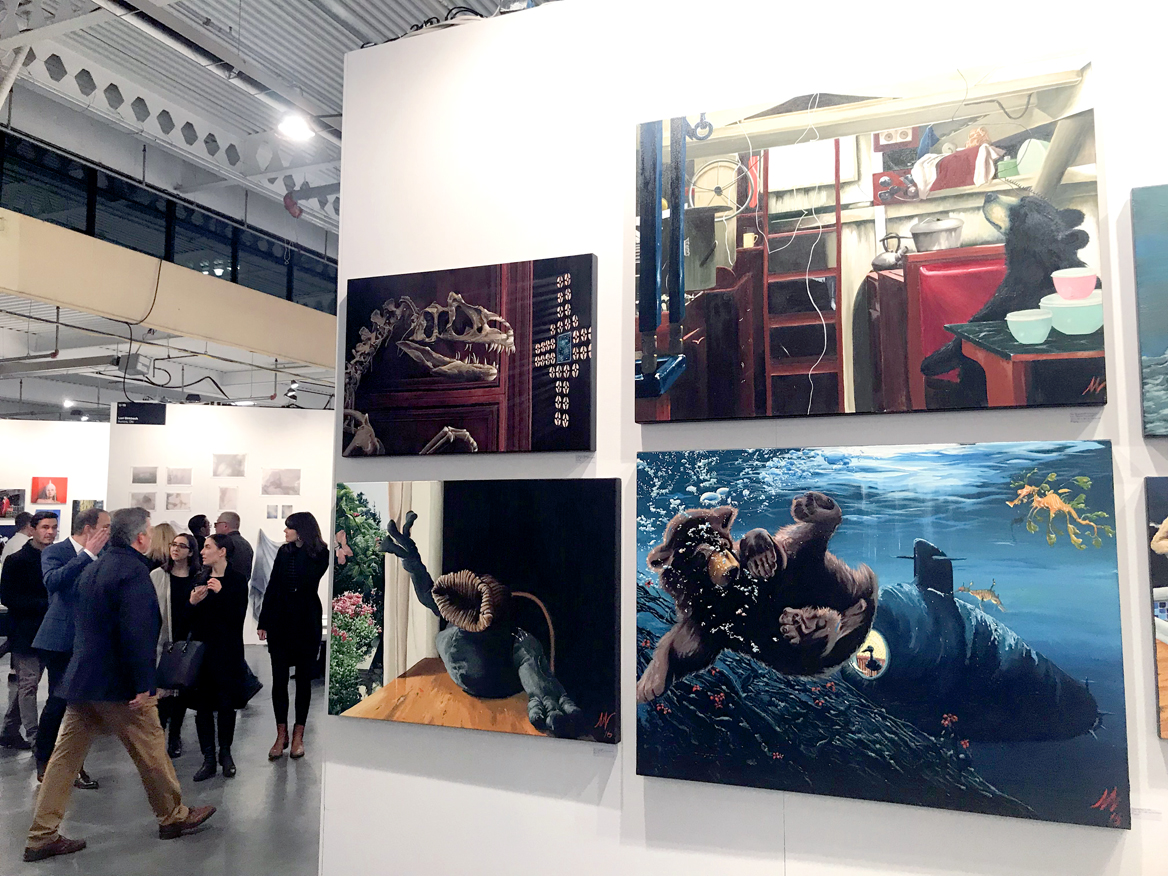 There's something about Michelle Winters' works that capture our attention. Her paintings not only look gorgeous with an animal as a subject matter, they also look as if they are an illustrated story with themes such as survival and solitude with references of the industrial world.
"Michelle Winters is a writer, painter, and translator from Saint John, N.B., living in Toronto. Her written and visual work embraces the absurd, explores the lushness of the industrial, and anthropomorphizes with gay abandon."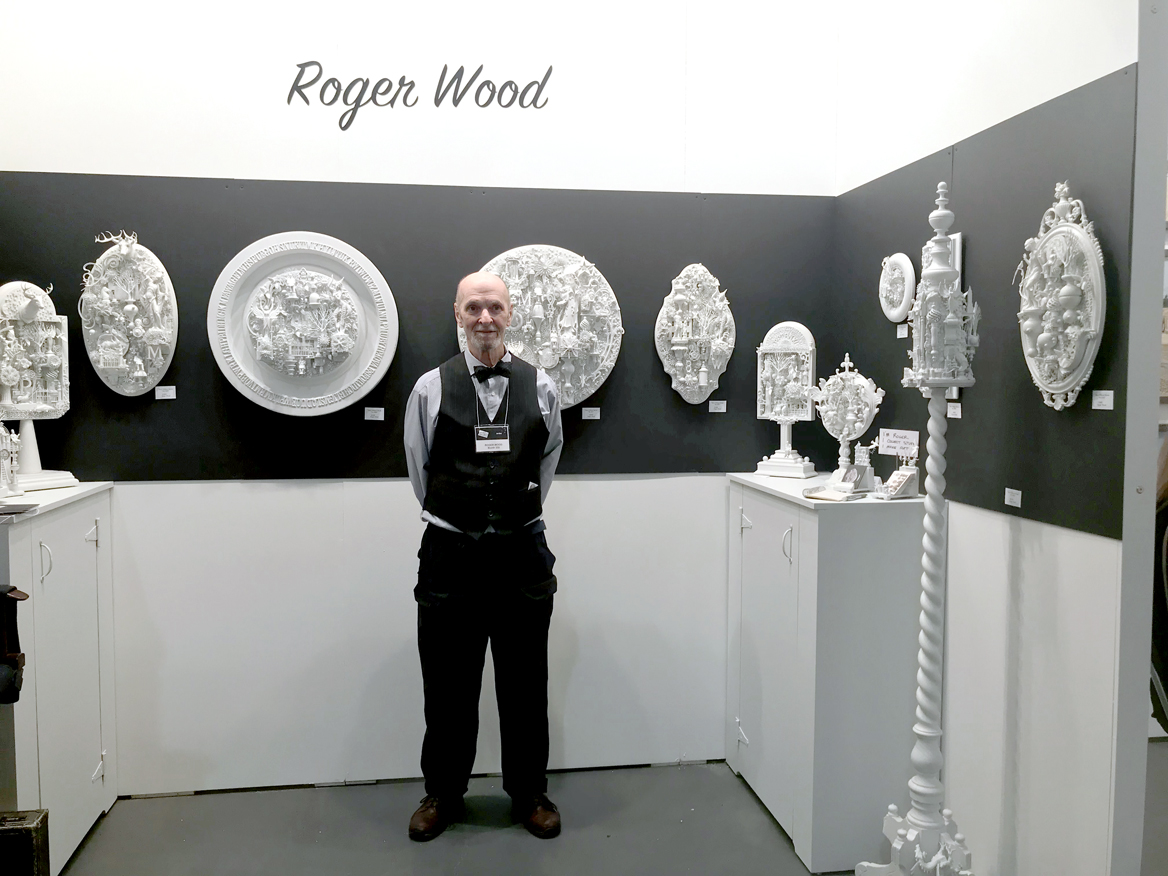 "I am an avid collector of bric-a-brac; of the discarded; of the overlooked." Roger stated in his statement.
During our brief talk to Roger, we felt his enthusiasm of his many art pieces, he told us how he has been collecting many of the tiny pieces from places such as flea markets to thrift stores. Using the many different items he collected, Roger patiently and intuitively made them into all white elegant assemblages that tell viewers stories without the use of words.
Other than looking at sculptures and paintings, we also enjoyed sampling food and drinks from many local and Canadian vendors, listening to live DJ music and looking at installations around the hall.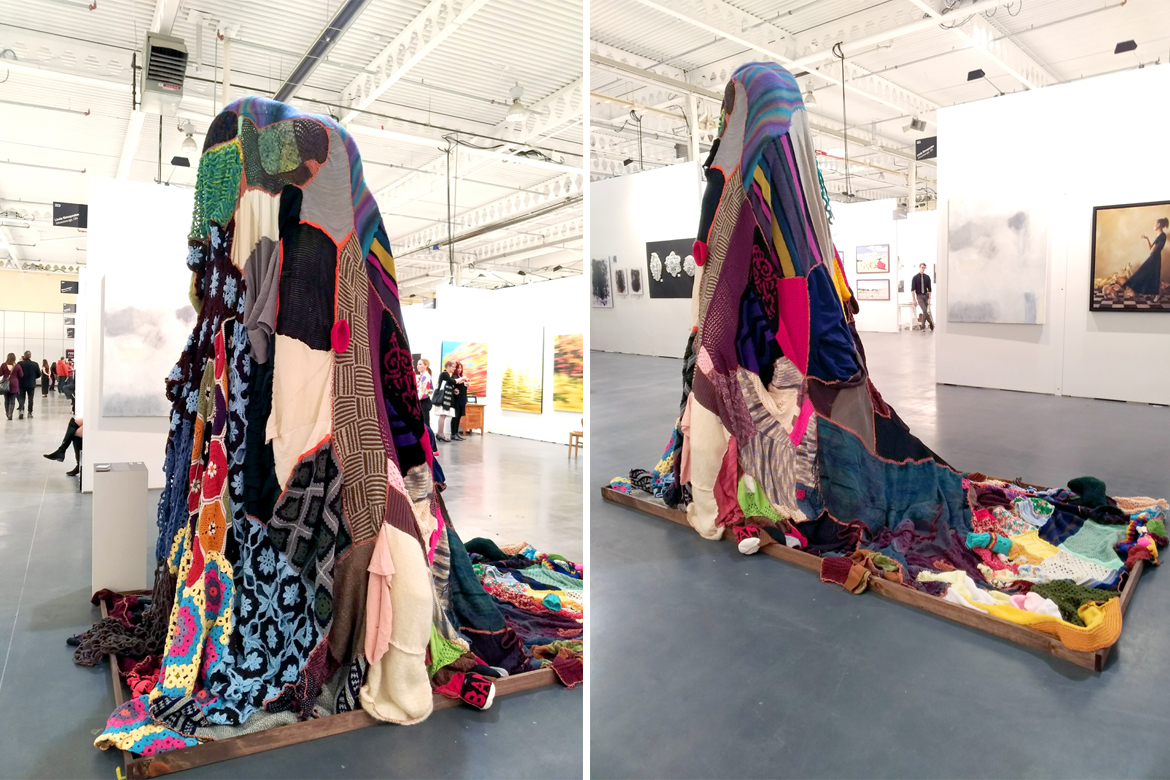 This installation looked like a comfy knitted nest ready for people to snuggle in, every knitted pieces have an unfinished story behind.
"My practice involves collecting unfinished textile-based crafts projects and re-contextualizing them within the contemporary art world. Finishing the cast-off crafts started as a means to uncover, display and celebrate the many abandoned projects that sit in crafter's closets, such as the knitted sock that never got its partner, the baby hat that wasn't made in time, the sweater that didn't get sewn together. My original intent was to monumentalize textile objects and skills that are still often unacknowledged and undervalued in contemporary art. However, as the project unfolded, it has become about reintroducing the body and highlighting characteristics that come imbued in the objects."
"What began as a personal exploration of 3-dimensionality has become an integral, permanent part of my artistic practice. This installation project is an opportunity to display my clay sculptures exactly as I've always envisioned them; in a large group on a large space. I am always intrigued to the immediate response and fascination of the viewing public towards my clay pieces. It would seem that my clay sculptures have inevitably defined themselves of their own accord by creating a unique universe within which they live in. My hope for this installation is that people will view my clay sculptures as I view them: original fine art pieces."
It was a pleasure to attend Artist Project opening night, the artworks and the interactions with the many artists were memorable. We look forward to next year's Artist Project!