EDIT DX Expo is an exhibition of different social and sustainable innovative technology for the future.
I was lucky to have a chance to check out the Opening Night, the Robotic Chair by Max Dean, Raffaello D'Andrea, and Matt Donovan, The Future Is Wood by Great Gulf and many many more. The Opening Night filled with guests more than I would have expected. All displayed technologies are very interesting that guests walk through all 4 floors to experience.
Interestingly, the Robotic Chair, is a chair that falls apart, gathers itself together and picks itself back up again and again through programming, like a robot that can function itself, is a featured item. I was lucky to witness it. A practical function of this technology would be restoring broken hand-helds or fixed household items to prevent lose pieces. This project is done by a few top professionals, who worked at Google or Amazon, during their spare time.









Another noticeable work would be #thefutureiswood by Great Gulf. It is such a stunning installation that talks about how important and sustainable woods are. Its installation looks like the "future". The installed babe-tube-trees will be planted after the event. Other initiatives include Feeding the 5000. It is an event that cooks and hands out food for others as a closing for EDIT DX Expo.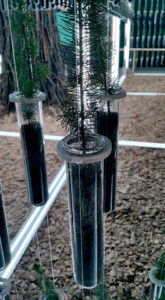 As a volunteer, I had a good experience. We were brief and were given a small handout to read about the booth we will be responsible for before we start. During the shift, we had chances to explore all the novelties in the expo. Volunteers are also very friendly. We will meet volunteers who may be responsible for the same booth in the later day that come to you and ask questions to get ready for their shift. At the end of the shift, we will also be asked what and how the expo can be improved. We will name the areas where visitors have trouble with and what area do we see improvements for, so they can do better on the next day.
I hope this expo will continue next year, so more social and sustainable initiatives can be noticed.
Date: September 28 – October 8, 2017
Address:
East Harbour (formerly Unilever soap factory),
21 Don Roadway, Toronto, ON, M4M 3P2
Admission: click for ticketing info