Welcome back to the second installment of the three-part photo Don Trail photographic hiking guide!
Milwood Road Bridge to Riverdale Park East
You will come across more bridges when you continue walking southbound on Lower Don trail towards south. The first one is the Millwood Road bridge, which stands tall over the trail. If you are like me and like to look at graffiti, you will see lots drawn on many parts along Don Trail and in particular on the pillars of the Millwood Road bridge. Very low ceilinged bridges like that of the Bloor/Bayview DVP exit, as well as a number of pedestrian tunnels are great places to spot graffiti artwork.
Cyclists sighting is very common on Lower Don Trail; they pretty much outnumber hikers on any given day. Reasons are possibly due to the extended length of Lower Don Trail, the trail's proximity to the residential areas, and lesser bike trails around the area. It's a wide open and relatively flat, paved trail which makes it suitable for cyclists of all levels. Keep yourself safe from any collision danger and show good hiking etiquette by not staying in the middle of the trail. Also, some parts of the trail need maintenance work to be done, so watch your steps for potholes along the trail.
Once you reach Pottery Road you will want to stop and look both ways before you cross. No worries though, because there are some big signs to remind you to look both ways before crossing the busy road. The day I was there, there were a lot of bikers and pedestrians on the crossing island waiting for gaps in-between cars to cross.
If you are interested in taking a closer look at the Don River, there are quite a few vantage points to be found. A part of the trail south of Pottery Road runs closely beside the river and there are a few spots easily accessible by foot with caution. The day was hot when I went there during the summer, I saw some children and adults playing by the river. I was a tad concerned about their safely but they seemed to be doing okay by staying on stable and big pieces of rocks.
An afternoon of hiking ends at the Riverdale Park East after walking on the Riverdale pedestrian bridge that crosses above the DVP. It can be rather fascinating to look at the cars running down the DVP right below your feet. The Riverdale and Leslieville neighbourhoods are currently blooming with small shops and new developments that will leave you wanting to explore this area more. East Chinatown and Little India are right around the corner on Gerrard Street if you so wish to have an authentic Asian food exploration after a day of hiking.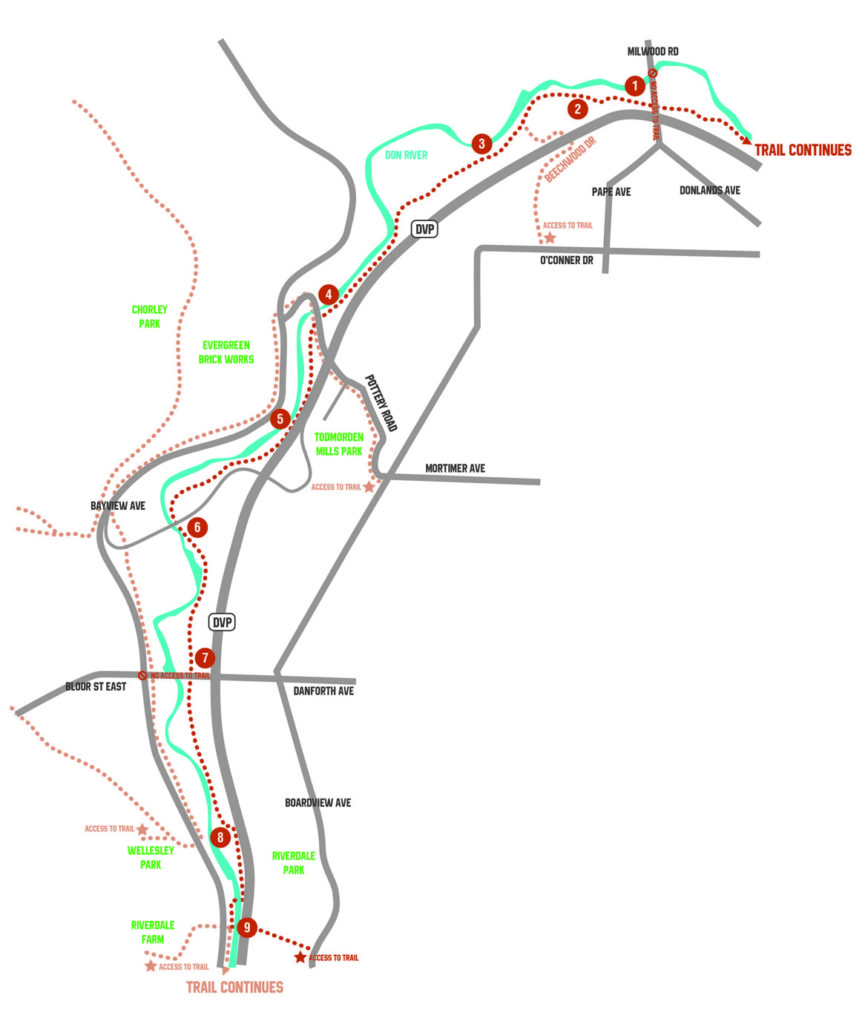 <To be Continue… Part 3 of 3 coming soon!>